---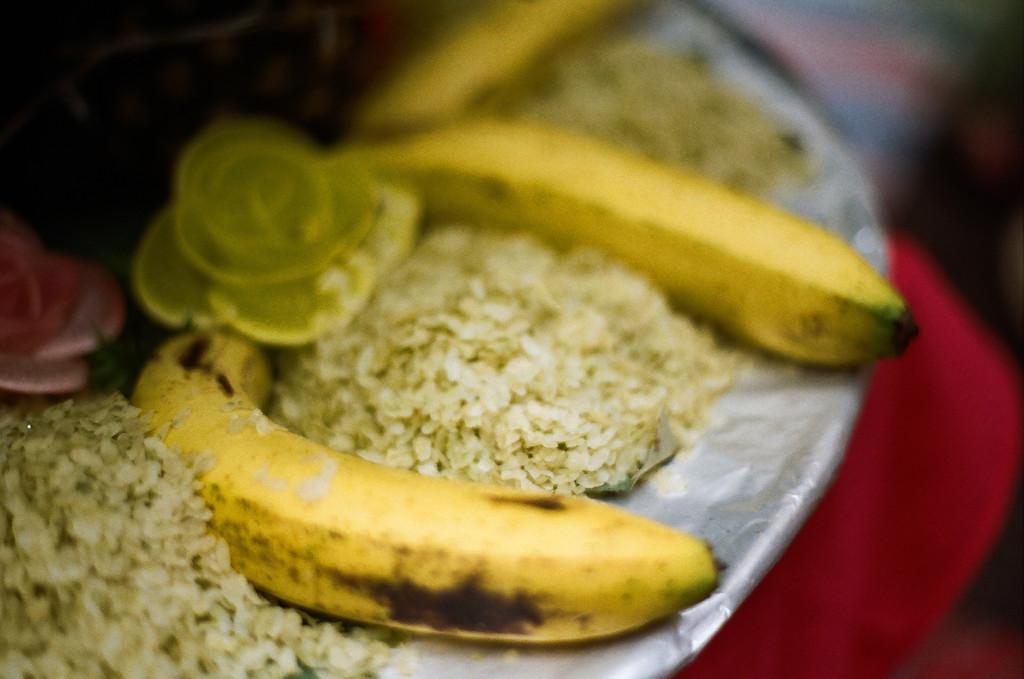 Photo taken by Vo Tuan Trung
As many other ASEAN countries, Vietnam mainly relies on rice to feed its people. There are wide varieties of dishes made from rice: such as different types of buns and noodles. The young grains, in particular, are used to make a unique food called "cốm". Cốm is special because it is not supposed to fill one's stomach, it is only available for just about a month in a year, and it takes extra care and effort, patience and time to make cốm. In other words, cốm is not just some food to eat and forget as soon as it goes down one's throat. One must appreciate everything that comes with it, all the flavours, colours and textures, as well as take time to really absorb and digest those green flat grains, let them bring into one's body the condensed taste of sunlight, rich soil nutrition, autumn wind and all elements that a rice plant takes from nature over the course of its life.
When grains have developed well but not yet ripen and changed to yellow, farmers harvest some the best grains, pluck them off the ears, remove the small ones, soak them in water and roast in a big pig-iron pan. The fire is kept low and grains are constantly turned in the pan so every grain receives the same heat. After roasting for about 30 minutes, grains are pounded in a mortar, a few kilogram each time. According to the texture of the grains, they will be pounded for five to seven times, until they become very soft and glutinous. Then cốm will be packed in lotus leaves, which not only keep moisture but also give cốm a vague fragrance of lotus flowers. Cốm is typically sold by vendors who walk around the streets with two baskets connected by a bamboo pole on their shoulders. Usually young or middle age women, these vendors bring with them a small scale, for no one buys cốm in large quantity. Each customer typically buys a few hundred grams of cốm, because it must be consumed fresh unless already being dried or cooked with sugar.
Cốm is often around during September, when rice fields smell so sweet and tender, and if farmers squeeze a grain with their fingers a white liquid like milk will burst out. As soon as the grains ripe and turn yellow, they can no longer be used to make cốm. Thus, cốm always disappear too fast and leave behind a sense of reminiscence. Although Vietnamese farmers cultivate two crops per year in the North, and three crops in the South, cốm goes best with the cool weather after summer has passed. Thus, farmers usually make cốm in the second harvest, because not only it yields higher production than the spring harvest, but also this delicacy really suits the general atmosphere of that time in the year. People have to wait one year to enjoy cốm again. That special one month when everything is just right is like a short but a beautiful love story which never lasts long enough for people to get bored, so when cốm comes back the year after, they still fall in love with it all over again.
Besides eating fresh, cốm can be used with other ingredients to make different dishes as well. For example, if cốm is mixed with eggs and both are fried together, this mixture adds to regular fried eggs a glutinous middle layer. Cốm can also be served as sweet dessert if boiled and added sugar. A jasmine flower dropped in a cup of this drink will do the trick of bringing the best fragrances together. Cốm buns are a must in all engagement ceremonies. My favourite dish is cốm mixed with ground pork and eggs. The fried meatballs are soft, glutinous and light that it is almost impossible to get cloyed.
Like other lovers of cốm, I always have to remind myself to eat it slowly and with appreciation. But probably like others, I always find myself unable to resist the inviting taste, pure yet so full of life. To take one grain of Cốm in one's mouth, one should contemplate about the whole process of nature's work and human labour that comes into making it, so one could be thankful for this heavenly gift and for life as well.
---